Stephane Cinanni
Bonjour tout le monde !  
Un peu d'information à mon sujet…..I am 44 years old and I've lived my whole life in Ottawa, having studied in the French school system. Whatever little free time I have is spent either playing or coaching hockey and soccer teams.  I love the cottage life by the lake and racing around in the forest on my ATV.
I am very blessed to have a beautiful family with my wife Marisa, my son Adriano (13) and my daughter Soliana (11).  We are definitely a high-energy family, with everyone playing soccer, hockey, golf, tennis, and whatever other games we can find time to play.  Our summers are usually spent traveling in Spain and enjoying the beautiful sun. The winters are spent on the rinks or sledding in the wood trails at the cottage.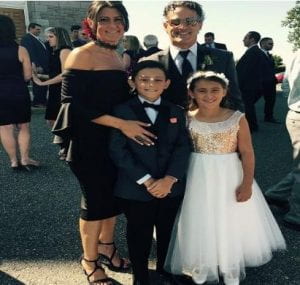 La famiglia Cinanni at my brother's wedding
I've been very fortunate to be part of the teaching team at the OJCS for the last 16 years, helping our students immerse themselves as much as possible in the French language. I teach the Extended French program in grades 6-7-8, as well as History and Geography. I help coordinate the Remembrance Day assembly, the French Day assembly and our annual Sports Banquet. I also organize our annual Sens Night.
At the OJCS, sports are an integral part of school life.  I have been very lucky to have had coaches volunteer their time during my youth, so since I have been on staff at OJCS, I have coached soccer, basketball and volleyball at almost every grade level. I see this as the "pay it forward" principle. 
I am looking forward to many more successful years at the OJCS, and being involved in as many activities and programs as possible in order to make every year at the OJCS better than the previous one.
Forza AC Milan, Go Dolphins, Go Sens, Go Duke !
À bientôt,
Steph